Biotronix ULTRASOUND THERAPY 1 and 3 MHz Equipment LCD Display Clinical Deluxe Model Make in India with 2 year Warranty
Rs. 9,500.00

Rs. 9,500.00

Save Rs. 9,000
---
---
Biotronix ULTRASOUND THERAPY 1 and 3 MHz Equipment LCD Display Clinical Deluxe Model Make in India with 2 year Warranty 
Ultrasound 1MHz & 3MHz Multi Therapy Unit : Biotronix 
KEY FEATURES:
One of the Largest selling ultrasound machines 
Frequency - 1 MHz & 3 Mhz
Intensity upto 3.0 watt/cm2
Microprocessor controlled Digital Unit
Pulsed and Continuous application
Durable body with comfortable ultrasound head
APPLICATION:
Therapeutic Ultrasound provides therapeutic deep heat treatment for Relaxation
Reduce swelling and inflammation.
Promote the synthesis of proteins inside the cells
Lymphatic Drainage with cellulite reduction
Regenerate wounded tissues
Accelerate the metabolism of cells
TECHNICAL SPECIFICATION:
Frequency : 1 MHz & 3 Mhz
Ultrasound Output : 15 Acoustic
Ultrasound Head : 3.0 watts/cm2
Treatment Time : 0-60 Min
Modes: continuous and pulse waves.
Available voltage: 220v/50 Hz 
Technical Specifications: Ultrasonic nominal Frequency: 1 Mhz or 3 Mhz

Ultrasonic Output                   : cont. 2.5W/cm, Pulse 3.5/cm
Pulse Frequency                      : 8hz, 16z 50hz, 100hz
Pulse ratios                               : 1:1, 1:4, 1:7, 1:9
Treatment time                        : 0 to 6 Minutes
Timer                                         : Electronic timer 0 to 99 minutes 
Display                                      : LCD display
Package Contents:
1 pc Biotronix ULTRASOUND THERAPY 1 and 3 MHz Equipment LCD Display Clinical Model Make in India with 2 year Warranty

 

1 pc Ultrasound Applicator 1Mhz with Wire and 1 Pc Ultrasound Applicator  3 Mhz with Wire  
1 pc Main Cord 
1 Pc Carry Bag 
2 pc Gel Bottle 
Warranty Details: 2 Year Offsite Warranty for Equipment against manufacturing defects ,No warranty or Guarantee for the Accessories like wire pads Applicator etc .

Continuous output is preferable for following indications
INDICATION( Continuous/ Pulsed )
Chronic Neuromata
Myalgia
Sudek"s syndrome
Tethered scar tissue- This should be treated as early as possible & the increased circulations etc. frees the scars if very localized then it should be pulsed ultrasound.
Pulse output is preferable for following indications
Severe sprain & strains of muscle fibers, tendons& ligaments-Previously these used to take weeks to geta full functions but with ultrasound now takes days.
Crushed hands or feet- the immediate use of ultrasonic therapy prevents the formation of fibrous tissue, by the absorption the free blood etc, making the early restoration of function possible when the fracture allow.
Dislocation of fractures into or near joints- these too should be treated immediately to prevent adhesions forming as the result of unabsorbed free fluids.
Haematoma from severe muscle tears & haemarthrosis from trauma or haemophilia the quick absorption of free blood is essential for speedy restoration of function.
Acute tenosynovitis, tendonitis, de quevain" s stenopsing tendo- vaginities etc. quick recovery
Acute synovitis or capsulitis quick recovery
Carpul tunnel syndrome often effective
Reticular nerve pains i.e. Brachial neuritis, intercostalis neuritis lumbago, sciatica etc. pulsed ultrasound given to the appropriate nerve roots gives immediate reduction in pain.
Herpes Zostar- the residual nerve pains is greatly reduced in about 50% of the patients.
Anldyosing spondylitis most effective in early stages, reduces pain & increase mobility. This progressive disease can be kept at a very slow face of progression if repeated courses of treatment are given .
Scar tissue - early treatment prevents keloid scare formation and softness existing new scars.
Neuromata- it is new scar formation This pain will be completely stopped
What is therapeutic ultrasound/ UST physiotherapy?
Therapeutic ultrasound is also commonly termed as ultrasonic therapy or UST therapy.
UST full form in physiotherapy: UST in physiotherapy simply stands for UltraSonic Therapy. Or sometimes it is also called as UltraSound Therapy.
There are many technicalities, frequency setting, intensity adjustment which we need to take care of during the treatment. These technicalities are beyond the scope of discussion here. But, you will get the overall picture of what ultrasonic therapy is?  
Ultrasound is actually a sound wave whose frequency is higher than the frequency of the audible sound wave. It means that there is a certain range of sound wave frequency which human ear can hear.
Two different types of ultrasound frequency.
There is two different form of ultrasound frequency used for therapy purpose. One is 1 MHz frequency and another is 3 MHz. This two different frequency is generated by two different ultrasound head.
Depending on the site of body illness the types of frequency are selected. 1 MHz is used for treating deeper tissues and 3 MHz is used to treat superficial tissues.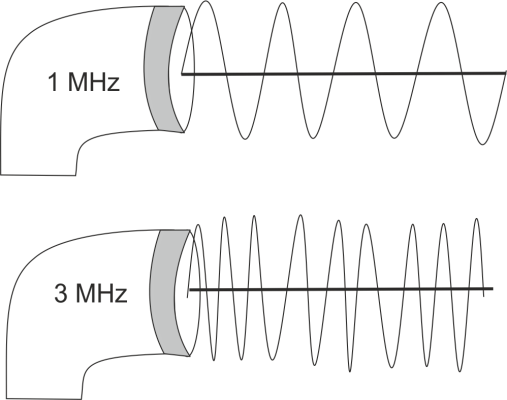 Physiological effect of therapeutic ultrasound
Two types of mechanism are commonly invoked to explain the effects produced by therapeutic ultrasound. These are classed as thermal and non-thermal effects.
Thermal effect
Thermal effect or heating effect in the deep tissues is its most important physiological effect. It helps in healing of tissue injuries that lies deeper by improving blood supply around the region.
Increase in extensibility of collagenous structures such as tendons and scar tissue.
Decrease in joint stiffness.
Pain relief.
Changes in blood flow.
A decrease in muscle spasm and,
At high intensities, selective tissue ablation as achieved in focused ultrasound
Non-thermal effects
Non-thermal mechanisms that can produce beneficial (therapeutic) changes in tissue may be cyclic or non-cyclic in nature.
'Micro-massage' effect: This is thought to be an effect due to the periodic nature of the sound pressure field.
Acoustic streaming: Ultrasound waves produce a cavity that oscillates inside the intra- or extracellular fluid which is termed as acoustic streaming. Streaming may act to modify the local environment of a cell, leading, for example, to altered concentration gradients in the vicinity of an extracellular membrane. Streaming may account for the reported changes in the potassium and calcium content of cells following ultrasonic exposure.
Indications of therapeutic ultrasound
There are many painful conditions where ultrasound therapy has found to be very effective. It's deep micro-massage effect and internal warmth effect can cure many chronic  pain cases.
Myofascial trigger points.
Soften the surgical scar.
Softening the tendon after tendon transplant.

 

knee
Piriformis syndrome
Contraindications of therapeutic ultrasound
Although it is beneficial in lots of cases, but after all its an electromagnetic rays. There are few conditions where exposure of these rays can trigger some internal derangement.
Tumor.
Pregnancy.
Over the metal implants.
Knee replacement.
Hip replacement.
Pacemaker.
Eyes.
Product Tags and Keywords : 
 ultasound, Ultrasound, Digital Ultrasound, Portable Ultrasound, Electrotherapy Product, Physiotherapy Ultrasound Therapy Unit (1mhz), , US11, Ultrasound Portable machine, Physiotherapy Machines, Physiotherapy Equipment, UST, Ultrasonic, Ultrasound Therapy, ultrasound machine for physiotherapy, ultrasound machine for doctors, ultrasound machine for pregnancy, ultrasound physiotherapy machine, portable ultrasound machine, ultrasound fat burning machine, ultrasound machine digital, ultrasound machine head, ultrasound pain therapy fast weight loss massager machine, ultrasound machine physiotherapy, ultrasound machine portable, ultrasound physiotherapy machine for pain relief, ultrasound scan machine, ultrasound therapy machine in physiotherapy, ultrasound therapy machine, therapeutic ultrasound machine, ultrasound machine 1mhz, ultrasound physiotherapy machine 1 mhz,Electrotherapy Products, Ultrasound Unit, Digital Ultrasound, Portable Ultrasound, Physiotherapy Ultrasound, acco Ultrasound Therapy Unit (1&3Mh),, Physiotherapy Machines, Physiotherapy Equipment, Physiotherapy Machine, UST, Ultrasonic, Ultrasound Therapy, ultasound, Therapeutic Ultrasound Unit, Ultrasound Unit for Home Use, Mini Ultrasound, Ultrasound Therapy Unit, Portable Ultrasound, Digital Ultrasound,  Ultra Sound Unit (MiNi)(1Mhz), Physiotherapy Machines, Physiotherapy Equipment, Physiotherapy Machine, Ultra Sound, UST, Ultrasonic, Ultrasound Therapy, ultrasound machine for physiotherapy, ultrasound machine for doctors, ultrasound machine for pregnancy, ultrasound physiotherapy machine, portable ultrasound machine, ultrasound fat burning machine, ultrasound machine digital, ultrasound machine head, ultrasound pain therapy fast weight loss massager machine, ultrasound machine physiotherapy, ultrasound machine portable, ultrasound physiotherapy machine for pain relief, ultrasound scan machine, ultrasound therapy machine in physiotherapy, ultrasound therapy machine, therapeutic ultrasound machine, ultrasound machine 1mhz, ultrasound physiotherapy machine 1 mhz,  Mini Ultrasonic Therapy Unit buy online,  Mini Ultrasonic Therapy Unit Price, Mini Ultrasonic Therapy Unit uses, Mini US Therapy unit, Mini Ultrasonic Therapy Unit buy online,  Mini Ultrasonic Therapy Unit Price, Mini Ultrasonic Therapy Unit uses, Mini US Therapy unit,  Ultrasound unit, Ultrasound unit price in India,  Ultrasound unit online in India,  Ultrasound unit cost, US06, SPIRE Sonic 10+ Ultrasound Therapy Unit(1Mhz), SPIRE Sonic, Ultrasound Therapy Unit, Ultrasound Therapy Manufacturer, Ultrsonic, Physiotherapy Ultrasound online, Combo US Tens MS, Combo, Combination Therapy Unit,  COMBO (US ; TENS ; MS),-03CM06, CM06, Physiotherapy Machines buy online, buy Physiotherapy Equipment, Physiotherapy Products, UST, Ultrasonic, Stimulation, Electrical muscle stimulation units online,LCD Display Ultrasound Therapy 1 mhz ,3 mhz ultrasound therapy ,best quality indian ultrasound therapy ,ust 1 and 3 mhz 
---
We Also Recommend
---