Biotronix Physiotherapy Combinatoin Electrotherapy IFT ( Interferential Therapy Analogue ) and Ultrasound Therapy 1 Mhz Make in India with 2 year warranty
Rs. 8,500.00

Rs. 8,500.00

Save Rs. 9,000
---
---
Biotronix Physiotherapy Combination Electrotherapy IFT ( Interferential Therapy Analogue ) and Ultrasound Therapy 1 Mhz Make in India with 2 year warranty 
The Biotronix IFT + US ( 2 IN 1) is an electrotherapy device compact, portable light weight unit microcomputer controlled LCD based programmable device to reduce the deep pain by low frequency, low intensity impulse stimulation, which is carried by a medium frequency, carrier consist, programmable treatment parameters for Interferential Therapy and Ultrasonic which can be used for different, physiological traumatic conditions of deep muscle pain and weakness, joints pain and vascular disorders etc.
Specification:
Input Voltage: 220 V / Ac 50 Hz
Display: Seven Segment Display
Intensity: 99 mA
IFT Medium Freq.: 4 KHz
Russian current Frequency: 2.5 kHz
Base Frequency: 0-150 Hz
Therapy Modes: 4P IFT
4P Vector
2P Modulation
Ultrasound Therapy : 1 Mhz ultrasound Therapy with Continous and Pulsed mode 
What you will Get in this Package : 
1 pc Biotronix Physiotherapy Combination Electrotherapy IFT ( Interferential Therapy Analogue ) and Ultrasound Therapy 1 Mhz Make in India with 2 year warranty 
1 Pc Main Cord 
1 Pc Ultrasound 1 Mhz Applicator and Wire 
4 Pc IFT Wire 
4 Pc Electrodes
2 Set Velcro Strap ( 3 pc Strap small medium large in one set ) 

2 Pc Gel Bottle 
1 Pc Carry Bag 
Warranty Details: 2 Year Offsite Warranty for Equipment against manufacturing defects ,No warranty or Guarantee for the Accessories like wire, pads, US Applicator  etc .
Indications:
Combination unit may help treat the following symptoms:
Joint pain
Neck and Back Pain
Sports Injuries
Fibromyalgia
Painful Diabetic Neuropathy
Spinal Cord Injury
Increase Blood Circulation
Ligament sprains
Tendinitis, Scar Tissue healing and Muscle Strain
Contraindications:
Although it is safe for most people, experts recommend that in below mentioned situation; avoid Electrotherapy treatment unless a doctor advises its use.
Pregnant women: Pregnant women should avoid using TENS in the abdominal and pelvic regions.
People with epilepsy: Applying electrodes to the head or neck of people with epilepsy may induce seizures.
People with a pacemaker or another type of electrical or metal implant.
Electrotherapy should not be used in areas of the body where cancerous lesions exist.
The treatment should not be applied in areas of the skin that are swollen, infected, or inflamed (e.g. varicose veins)
Ultrasound should not be used near bone growth centers until bone growth is complete and over a healing Fracture
          Ultrasound should not be used on unconscious patients
 IFT physiotherapy simply means a physiotherapy treatment given through an IFT machine. IFT stands for Interferential Therapy where two medium frequency current interferes to produce a beat frequency to give soothing and pain-relieving effect on the part where it is applied.
Interferential therapy or IFT, in short, is a very integral part of the physiotherapy treatment process. It is one of the several electrotherapy modes of treatment where electric current is used for getting the desired result.
IFT is given through a machine that produces modified electric current and it is supplied to the affected body parts via wires. It has a soothing effect on our muscles and often my patient in our clinic describes it as a massage effect.
One can feel the relaxing effect after the application of IFT.
What is Interferential Therapy?
As the name suggests, there has to be two current that interferes with each other resulting in the production of IFT.
To be more specific, two medium frequency current interferes to produce a beat frequency which is called as Interferential Therapy or IFT.
Let me further simplify it so that anyone can understand it and explain it with the diagrams.
Observe the diagram below, two medium frequency current with slightly different frequency interfere to produce a resulting beat frequency current.
These two medium frequency current is of slightly different frequency so that when they interfere they form constructive phase and destructive phase.
This beat frequency is termed as Interferential current and the treatment process through this current is called as Interferential Therapy.
Types of IFT machine
IFT machine comes in two forms, one is for professional use and another is portable one which can be used by any layperson with little training. Both have a similar design but vary in features.
IFT consists of the machine with a control button and a display panel from where the intensity we control the supply of current. It comes with four external wires with colour code.
One pair (two wires) is of black colour which forms one channel and another pair is of red colour which forms the other channel. One end of the wire has a connection to the machine and another end to electrodes.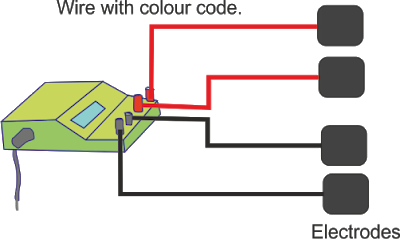 Electrodes are part of the machine that is directly connected to the treating body part. Electrodes can be made of metal or carbon rubber (nowadays vacuum electrode is gaining popularity).
To apply electrodes over the body, the electrodes are covered with a wet lint pad (a special piece of cotton cloth made for this use). Many prefer gel rather than lint pads for placing the electrodes (note: the gel is used only for rubber electrodes).
How to use IFT machine?
Locate the painful spot, it may be knee, shoulder, low back or anything else. Apply electrode with lint pad/ gel as applicable around the spot.  
Placement of electrode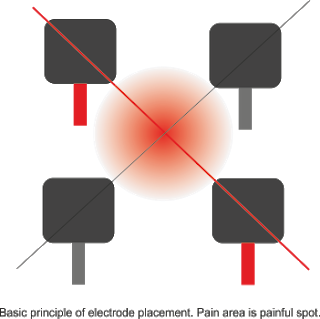 The placemen of two channels (as described above) should be such that it crosses each other. The intersecting area should be targeting the pain spot. The following figure will describe it.
This is where the term "Inter-ferential' justifies itself. Note how two medium frequency current interferes with each other.    
Effects of IFT on our body
IFT is actually a beat frequency current supplied over the muscle. It affects in two way, one it stimulates the muscle to contract (muscle pump effect). The second is ti also affects the nerve that carries the pain sensation. It relieves body pain by pain gate theory mechanism.
Here are the bullet points of its effects:
Pain relief- It gives instantaneous pain relief and soothing effect.
Muscle spasm relief- The continuous contraction & relaxation of muscle create muscle pump effect thereby improving the blood circulation. Its massage effect relaxes the spasmodic muscle.
Wound healing: Improved blood circulation helps in soft tissue repair.
Swelling reduction: Muscle pump effect helps drastically in improving the swelling.
Muscle relaxation.    
Indication of IFT
  IFT helps in the improvement of many painful conditions.
Back pain.
Neck pain like cervical

 

spondylosis, neck muscle spasm.
Knee pain like osteoarthritis of the

 

knee.
Frozen

 

shoulder,

 

shoulder pain.  
Contraindications
  These are the conditions where using IFT must be avoided.
Bleeding area.
Body part with metal implants.
Loss of sensation, like in paralysis case.
Recent fracture.  
How Does Ultrasound Therapy Work?
For the last 80 years, ultrasound therapy has been used as a non-invasive procedure to treat a wide variety of ailments. It is often used to treat swelling, particularly when the swelling is spread over a larger area than usual. It can also be used for phonophoresis, which is when medicine is administered via the skin without injection. This makes ultrasound therapy suitable when typical methods are unsuitable for a patient, such as one who has a fear of needles, or haemophiliacs.

What Is It?
The best way to describe ultrasound therapy is by simply thinking of ultrasounds given to pregnant women, as the technology is largely the same. Small, handheld probes are placed on the problem area combined with gel or cream, which may be medicated depending on the condition in question. The probe vibrates, sending waves through the skin and into the body. These waves cause the underlying tissue to vibrate, which can have a variety of benefits which we will look at below.
In general, ultrasound therapy sessions will last no longer than 5 minutes. This simply involves applying the gel or cream, and then rubbing the probe around the affected area.
Benefits
The waves sent through the body have several broadly applicable benefits, making ultrasound therapy suitable for a wide range of issues. As well as heating and relaxing the muscles, ultrasound therapy breaks down scar tissue and increases local blood flow. All of this combines to increase healing rates in the area, making it a suitable way to speed up slow-healing or chronic issues. We now think that it can also encourage the repair of damaged bones. More recently, it has been used to reduce pain from conditions such as osteoporosis and arthritis.
What Is It Used For?
Since the benefits of ultrasound are so broad, it can be used for a huge range of issues. However, it is usually reserved for problems with swollen muscles, particularly when time is a factor in the recovery.
The heating and relaxing benefits help to alleviate muscle pain, while the increased flow to the affected area will mean that more lymph passes through. Lymph is a clear fluid that carries white blood cells throughout our body, which fights infection, encourages healing, and removes excess fluid. These three factors combined make it a very effective way to treat swelling and inflammation, not only of the muscles, but also of the joints and ligaments. Issues such as tendonitis, not-acute joint swelling, and chronic inflammation are some of the most commonly treated issues.
What Are The Risks?
Ultrasound therapy is a very low-risk, non-invasive procedure. That being said, there are times when it is unsuitable to use. Despite its similarity to ultrasound machines, ultrasound therapy is not suitable for issues located near the womb of a pregnant woman. The wavelengths used in this therapy are different to those used in a prenatal ultrasound, and could put the pregnancy at risk. However, the therapy can still be used on other parts of the body, regardless of whether or not a woman is pregnant.
Ultrasound therapy may also be unsuitable for people with malignant growths, or cardiovascular issues. But again, this can depend on where the therapy is to take place on the body. Ultrasound therapy is completely unsuitable anywhere on the head or testicles, and above any metal implants. It is generally avoided over the spine, and the growth plates of children, as it may have unintended consequences. 
Products Tags and Keywords : 
 Combo IFT Tens MS & US, Physiotherapy COMBO (IFT;TENS;MS;US) Digital, Biotronix , Physiotherapy Machines, Physiotherapy Equipment, Physiotherapy Products, UST, Ultrasonic, Stimulation, Electrical muscle stimulation,IFT, Portable IFT machine, IFT Unit, IFT Machine, Portable IFT, Interferential Therapy Unit, with Program, , Physiotherapy Machines, Ift indian machine,TENS; pain; pruritus; transcutaneous electrical nerve stimulation,4 channel tens machine for physiotherapy, tens machine used in physiotherapy, digital battery operated dual channel tens, tens machine ,Combo MS+Tens, Tens and Muscle Stimulator, Combination unit, CM05, Physiotherapy Machines, Physiotherapy Equipment online in India, Physiotherapy Products, Electrical muscle stimulation,Tens, Digital Tens, Portable Tens, Electrotherapy Product,  180B: TENS/MS,  180B, Tens Machine, Muscle Stimulator, Combo of tens and ms, Tens and ms, Tens and Muscle Stimulator,Portable Tens Machine, Tens Unit, Mini Tens Machine, Digital Tens Unit, Tens Unit, Tens (4 channel) Digital(Delux), Physiotherapy Machines, Physiotherapy Equipment,Portable Tens Machine, Tens Unit, Mini Tens Machine, Digital Tens Unit, Tens Unit, Tens Unit (4Channel, LCD, Pre Prg.), Physiotherapy Machines, Physiotherapy Equipment, tens machine 4 channel, tens machine 4 channel, tens therapy machine, tens machine for physiotherapy, tens machine combo, tens machine digital, tens machine for physiotherapy for facial, tens machine for physiotherapy 4 channel, tens machine for knee, tens machine mini, tens machine transcutaneous electrical nerve stimulation, tens machine of physiotherapy, tens machine portable, tens machine physiotherapy,  tens machine 4 channel, tens machine 4 channel, tens pain relief machine, tens unit machine, tens machine 4 channel electrotherapy device portable for pain relief, tens machine 4 channel for back pain, tens machine 4 channel for physiotherapy small, tens machine 4 channel, tens machine 4 channel,Combo Tens and Ultrasound, Buy Combination of Tens and Ultrasound, Combo(Tens 4ch, Automode +Ultrasound), Tens 4 Channel with US price, , Physiotherapy Machines, Physiotherapy Equipment, Physiotherapy Products, UST, Ultrasonic, Stimulation,  combo tens and US, Combo(Tens+US) by soluton forever ,Combo US IFT MS, Combination Unit, Combination Therapy, Physiotherapy Machines Price, Physiotherapy Equipments Online, Physiotherapy Products in India, UST, Ultrasonic, Stimulation, Electrical muscle stimulation,IFT, Interferential Therapy Unit, IFT with Programs, IFT with Tens, IF02, Physiotherapy Machines, Ift indian machine, Combo US IFT MS, Combination Unit, Combination , CM14B, Physiotherapy Machines Price, Physiotherapy Equipments Online, Physiotherapy Products in India, UST, Ultrasonic, Stimulation, Electrical muscle stimulation,interferential therapy unit, ift machine, ift machine India, buy interferential therapy unit in India
---
We Also Recommend
---