What is cervical traction?
Traction of the spine, known as cervical traction, is a popular treatment for neck pain and related injuries. Essentially, cervical traction pulls your head away from your neck to create expansion and eliminate compression. It's considered to be an alternative treatment for neck pain, helping people avoid the need for medication or surgeries. It can be used as part of a physical therapy treatment or on your own at home.
Cervical traction devices lightly stretch the neck to reduce pressure on the spine by pulling or separating the vertebrae. It's said to be both highly effective and fast-acting. Read on to learn more about this technique and how it can be of benefit to you.
Cervical traction devices treat different types and causes of neck pain, tension, and tightness. Cervical traction helps to relax the muscles, which can significantly relieve pain and stiffness while increasing flexibility. It's also used to treat and flatten bulging or herniated disks. It can alleviate pain from joints, sprains, and spasms. It's also used to treat neck injuries, pinched nerves, and cervical spondylosis.
Cervical traction devices work by stretching the spinal vertebrae and muscles to relieve pressure and pain. Force or tension is used to stretch or pull the head away from the neck. Creating space between the vertebrae relieves compression and allows the muscles to relax. This lengthens or stretches the muscles and joints around the neck.
These improvements may lead to improved mobility, range of motion, and alignment. This will allow you to go about your daily activities with greater ease.
A 2017 meta-analysis of studies analyzed the effectiveness of cervical traction in relieving neck pain. This report found that the treatment significantly reduced neck pain immediately following treatment. Pain scores were also reduced in the follow-up period. More in-depth, high-quality studies are needed to learn more about the long-term effects of this treatment.
A 2014 study found that mechanical traction was effective in treating people with pinched nerves and neck pain. Mechanical traction was more effective than exercising alone or exercising in addition to using over-door traction.
There are several ways to do cervical traction, either with a physical therapist or on your own at home. Your physical therapist can help you to decide upon the best method to suit your needs.
Your physical therapist may recommend that you buy cervical traction equipment to use at home. Certain devices may require you to have a prescription. Cervical traction devices are available online and in medical supply stores. Your physical therapist should show you how to use the device properly before you use it on your own.
It's important that you check in with your physical therapist even if you're doing a home treatment. They'll make sure you're doing the best treatment, measure your progress, and adjust your therapy as necessary.
Manual cervical traction
Manual cervical traction is done by a physical therapist. While you're lying down, they'll gently pull your head away from your neck. They'll hold this position for a period of time before releasing and repeating. Your physical therapist will make adjustments to your exact positioning in order to get the best results.
Mechanical cervical traction
Mechanical cervical traction is done by a physical therapist. A harness is attached to your head and neck as you're lying flat on your back. The harness hooks up to a machine or system of weights that apply traction force to pull your head away from your neck and spine.
Over-the-door cervical traction
An over-the-door traction device is for home use. You attach your head and neck to a harness. This is connected to a rope that's part of a weighted pulley system that goes over a door. This can be done while sitting, leaning back, or lying down.
Generally, it's safe to perform cervical traction, but remember that results are different for everyone. The treatment should be totally pain-free.
It's possible that you can experience side effects such as headache, dizziness, and nausea upon adjusting your body in this manner. This may even lead to fainting. Stop if you experience any of these side effects, and discuss them with your doctor or physical therapist.
It's possible for you to injure your tissue, neck, or spine. You should avoid cervical traction if you have:
postsurgery hardware such as screws in your neck
a recent fracture or injury in the neck area
a known tumor in the neck area
issues or blockages with vertebral or carotid arteries
cervical instability
spinal

 

hypermobility
It's important that you follow any safety instructions and recommendations provided by your doctor or by the manufacturer. Make sure you're performing the movements correctly and using the appropriate amount of weight. Don't overexert yourself by doing cervical traction for too long. Discontinue use if you experience any pain or irritation or if your symptoms get worse.


What is Lumbar Traction in Physiotherapy
Every one of you must have experienced or if not experienced, must have seen/ heard of people taking lumbar traction for back pain. It relieves your back pain without medication, not only but it also cures complicated pain cases such as sciatica, disc hernia preventing the sufferer to go for painful surgery. This is the magic of traction.
Just visit any hospital with a physiotherapy unit or any independent physiotherapy centre you are sure to spot the traction table. But, it is always given under the supervision of the qualified physiotherapist.
It is an integral part of the physiotherapy treatment process. In this post, we will try to understand the basic principle of traction with lumbar traction as an example.
What is lumbar traction?
Traction is a  broad term, it involves the process of application of a distraction to the body part by using weight or a mechanical pull. When the traction is applied over the lumbar area using a traction machine then it is termed as lumbar traction. In common practice, traction is also used for neck pain, knee, low back pain. But it is also used for the leg after the fracture of the leg bone and for hip bone after the fracture of the neck of the femur.
However, here we are only concerned with spinal traction for the lower back, i.e lumbar traction.
This is how we can define spinal traction:
It is the application of distraction force over the vertebrae in an attempt to separate two vertebral bodies from each other. In lumbar spinal traction, the pull is applied over the lower back.
How lumbar traction is applied
With time there is a significant improvement in the methods of traction application. Slowly it has evolved towards a more automated and mechanical way, where the force of pull and its duration of application is under control. We can easily change the duration and its force with the press of a button.
Manual lumbar traction
In older days the process was entirely different. It was given using weight such as sand-bag and bricks that uses gravity to create pull. For this, the person is first made to lie flat on the bed with a lumbar belt on.
The belt comes with hooks on either side to attach the rope. On the other end of the rope, a calculated measure of weight was hanged. It creates a pulling force on the back which is given for 20 to 30 minutes of duration.

However, it carries some demerits. Continuous traction for 20 to 30 minutes would sometimes aggravate the pain due to muscle soreness.
I personally never use manual traction one in my practice.
Mechanical traction
The need to avoid continuous pull paved a way for the development of mechanical traction device. A mechanical traction unit consists of a traction machine with motors fitted on the couch/table that creates a pulling force. One can easily control the pulling force through its control unit. One of the most important benefits of this kind of traction is we can easily choose between continuous traction and interrupted traction.
In my clinical practice, I prefer interrupted traction over the continuous mode. One should carefully choose the weight for lumbar traction. It depends solely on the body weight of the person himself and its calculation is very easy.
Lumbar traction weight calculation
The obvious question is how much weight is safe and effective?
Every person that comes to you will differ in terms of weight, height and build. The weight that may be effective for one may be too weight or too light for another. You need to calculate the weight for each and every different person.
Thankfully calculating weight is not difficult. There a rule of thumb according to which the weight of pull for lumbar traction would be 1/3rd the weight of the .
Note: Weight of pull for neck/ cervical traction is 1/7th of the weight of the body.
For example, a person weighs 65 kg, then the force of pull would be roughly 1/3rd of 60 kg, that would be 21.5 kg. So, in this situation, 25 kg would be ideal.
More on mechanical lumbar traction
Continuous pull produces muscle soreness but what when we interrupt it by a short duration of the relaxing period?
Let me be a little more specific with this example, let's take a total duration of pull as 10 minutes. So in interrupted traction, every 40 seconds there is an interruption of 10 seconds relaxing period. This is only possible in this mechanized way. The mechanized traction unit consists of a motorized traction machine, a bed, one chest piece belt, and a low back piece belt.
The illustration below shows all the important parts, the  of a mechanized traction machine.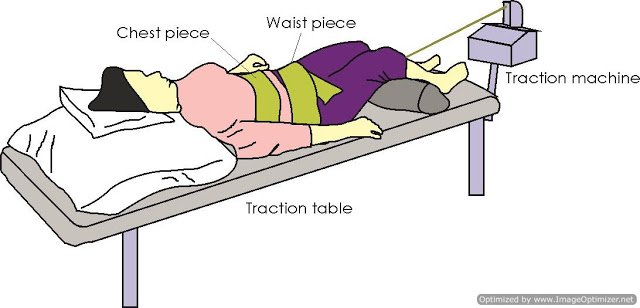 It has a control button from where we can control the hold time (traction) and release time (relaxation) depending on the nature and severity of the case. The detail on this topic is beyond the scope of this article.
How to apply lower back traction at home
Is it possible to get the benefit of lumbar traction physical therapy at home?
Yes! It is possible. You can use the lumbar traction kit specially designed for the home.  Just take care of how much weight /force you are using to apply force. Start with low weight and then progress.
Cervical Traction for Neck Pain
Cervical traction is a treatment often used in physical therapy to help treat neck pain and cervical radiculopathy (pinched nerves). It involves gently stretching your neck and separating the disc and joint surfaces in your cervical spine (neck).
Physical Therapy for Neck Pain
If you have neck pain or pain in your arm coming from your neck, your healthcare provider may refer you to a physical therapist (PT) to help treat your condition. Neck pain can limit your ability to turn your head, look up or down, or perform normal activities like sleeping or exercising.
Symptoms that often come from your neck include:
Pain in the middle of your neck
Pain in one side of your neck
Pain in one or both of your shoulder blades
Occasionally, pain or numbness and tingling in your arm or hand
Since many different symptoms coming from your neck can be felt in many different places, it's important to see your healthcare provider or physical therapist to help determine the cause of your symptoms and to decide on the best way to manage your condition.
If you visit a physical therapist to help treat your painful neck condition, he or she will likely perform an initial assessment and then prescribe various treatments. One such treatment is cervical traction.
What Does Cervical Traction Do?
Cervical traction can be used for a variety of purposes.
It can be used to help decrease compressive forces in the neck, which can help take pressure off of the discs that reside between the vertebrae (spinal bones) in the neck.
It can also open up the spaces where nerves exit the spinal canal, which can help relieve pressure off of a compressed nerve.
Traction can also help stretch the muscles and joint structures around the neck.
Common diagnoses that may benefit from cervical traction include, but are not limited to:
Herniated or bulging discs in the neck
Neck strains

1

Cervical muscle spasms
Radiculopathy

2
If you have any of these conditions or symptoms, check in with your healthcare provider and visit your PT to see if cervical traction is right for you. Your PT can show you what to do (and what to avoid) to properly manage your neck pain.
Does Neck Traction Really Work?
When considering any medical treatment, in the PT clinic or elsewhere, it helps to understand what research is available for the treatment and how it may help your condition. So what does the research show for cervical traction?
A 2017 meta-analysis published in the journal Spine examined seven different cervical traction studies. The researchers concluded that neck traction can possibly offer short-term neck pain relief. The research is inconclusive when determining if traction offers long-term relief, and more studies need to be done on cervical traction to determine this.
When considering cervical traction for your neck pain, it's important to speak with your PT to be sure it is right for you and to have realistic expectations for the treatment.
How is Cervical Traction Applied?
Cervical traction can be applied in many different ways. Your PT can help you determine the best one.
Manual Cervical Traction: This type of traction is performed by your physical therapist, who holds your neck and head in his hands and then gently provides a traction, or pulling, force to your neck. Rhythmic periods of pulling and resting are usually applied, with each position being held for up to 10 seconds.
Mechanical Cervical Traction: Mechanical traction for your neck involves using a harness that attaches to your head and neck while you're lying down on your back. The harness is attached to a machine that can provide a traction force, and the machine has a control panel so that your physical therapist can change the amount of force applied to your neck.
Over-the-Door Traction: This type of traction can be used at home and involves strapping a harness to your head and neck while you're sitting in a chair. The harness is attached to a rope that's strung through a pulley system over your door, and traction force is applied using weights, a sandbag, or a water bag that's attached to the opposite end of the rope.
The pulling force involved will generally change depending on the patient's position, with less force being used in the supine position since you don't have to overcome the force of gravity. In this position, eight to 10 pounds is often recommended.
The force should be held for 10 to 20 seconds, and then slowly released. Increased pulling forces up to 40 to 50 pounds can be used, and rhythmic pulling and releasing should be continued for 10 to 20 minutes.
Traction can be applied several times throughout the day. Be sure to work closely with your physical therapist to help decide on the best treatment parameters for your specific condition.
What to Know About Neck Traction
The term traction can mean different things in health care, but it generally refers to using a pulling force to treat joint, bone, or muscle problems. This is often used in physical therapy or orthopedics to treat:
Long-lasting muscle spasms
Dislocation
Fractures 
Deformities 
Traction is usually used on the neck, spine, arms, legs, and pelvis to help with any muscle, joint, or bone problems. 
The concept of traction uses force and counterforce to pull in the opposite directions. This usually involves pulling one way and adjusting a bed or using your body weight as a counterweight in the other direction.
This is often used for broken limbs. You might have seen someone with their leg wrapped, attached to a pulley system with weights, and hanging in midair. The pulley helps pull in one direction and your body weight pulls in the opposite. This is often done to help align bones for proper healing. 
Neck traction, or cervical traction, also uses pulling force on the neck. These are usually stretches or other exercises that are used to relieve neck pain. These can sometimes involve devices that you can use at home. 
Manual cervical traction. This is done with your therapist using their hands to gently pull your head and neck away from your body. They hold your head for 10 seconds and then gently release. They might do it several times at different angles. 
This type of traction is used: 
To diagnose your neck condition
During massage or physical therapy to gently stretch muscles
During chiropractic adjustment to gently stretch the neck
To relieve pain
Mechanical cervical traction. In this kind of traction, a harness is attached to your head while you lay down. Your therapist attaches the harness to a machine and uses traction to stretch your head and neck away from your body.
This kind of traction can also involve a Halo device or Gardner-Wells tongs, which use a ring pinned to the skull. These can be attached to a vest for long-term wear to help stabilize the neck, or attached to a harness. A machine or a weight is then applied to the Halo to provide the pull.
Benefits of Neck Traction
Neck traction is used in physical therapy settings, the emergency room, and sometimes at home. It is considered a non-invasive way to stabilize fractures or dislocations in the neck and spine. It's also used for:
Arthritis
Cervical disc

 

disease
Misalignment of cervical bones
Spondylosis, or spinal degenerative disc disease
Stenosis, or narrowing of the cervical space
Scoliosis‌
Neck traction has specific benefits, including:
Easing muscle spasm
Stopping muscles from shortening and contracting
Easing pressure
Helping to bring back blood flow and nerve function
Keeping your neck stable 
Correcting

 

deformities
Resting an injury
Relieving pain
People who have neck problems can sometimes have numbness and tingling in the arms and legs and a lot of pain, among other symptoms. It's not fully clear how neck traction helps, but it's thought that being in traction can take off some of the pressure on the nerve, and help muscles relax, which brings relief.
Sometimes traction is used on and off with periods of rest. This might bring more blood flow to your nerves. This kind of traction is used mostly for degenerative disc disease and when your neck doesn't move well.
Sustained traction uses weights or force for longer periods of time, usually up to 1 hour. This is used mostly for muscle pain and herniated discs.
Problems from neck traction are rare. People who have certain health conditions probably shouldn't use this therapy. These include:
Aortic aneurysm
Osteoporosis
Major anxiety
Untreated high blood pressure
Recent neck injury or

 

surgery
Chronic cervical disc degeneration
Pregnancy 
Your physical therapist or doctor will decide if you should use neck traction and if an at-home traction device is a good idea.
If you have any of the following symptoms during neck traction, you should stop immediately and be assessed by your doctor:
Headache
Nerve pain in your extremities
Pain suddenly goes away
Neurological symptoms

Muscle weakness
Numbness
Fainting
Confusion
Vision loss 
Tremors
Seizures 
Neck traction is one way to help with neck pain and other problems. Your muscles and tissues and spine are sensitive to damage, so it's best to get advice from your doctor first.